This feature is currently in beta status. If you'd like to opt-in to the Folders Beta, please contact your Zingtree Customer Success Manager. The beta will begin in early November 2022.
Adding folders to your My Trees list is an easy way to keep a long list of trees organized. Here's how you can categorize your trees into folders.
Adding a new folder
Authors with Super User permissions can create, rename and delete folders. See this section for more information.
From your My Trees page, click the heading from the top of the list.
Click Create folder.

Give your new folder a name.

Moving existing trees into a folder
From your My Trees page, select the tree(s) that you'd like to move into a folder, by selecting their checkboxes to the left of the tree's name.
Now click the Actions button in the toolbar.
Choose Move to folder from the menu options.

Folder hierarchy
You can create folders within folders. Here's an example of folders for Inbound and Outbound within the Sales folder.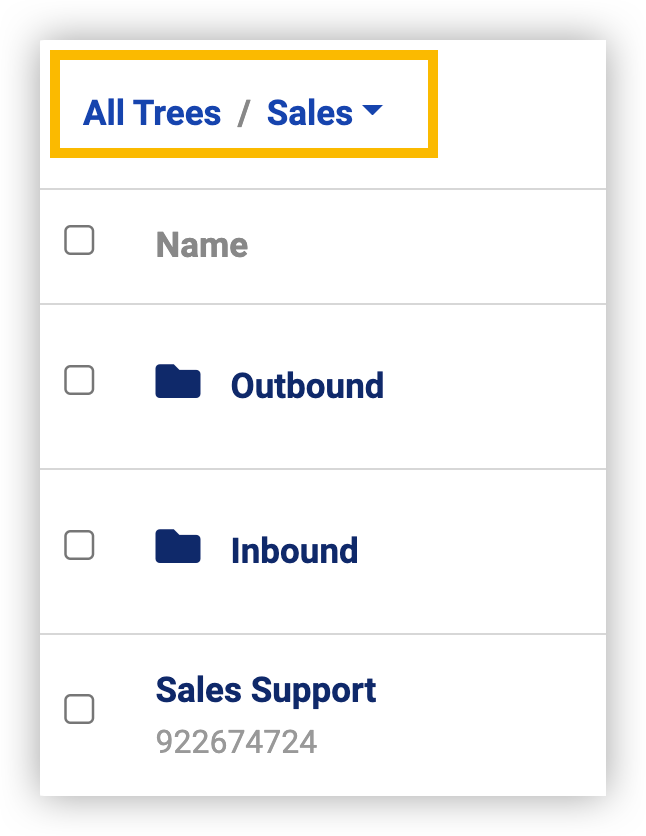 During the beta program, you can create folders up to two levels deep. Depending on customer feedback, we may expand this to more levels.
Creating a tree within a folder
First, open the folder from your My Trees page.

Click the Create New Tree button. Your new tree will be created within that folder.



More information
Permissions: Super Users can create, rename and delete folders. All other Authors can move trees into folders and create trees within folders, but cannot create, rename or delete them.
Shared view: The folder structure is shared to all Authors in your Organization. When a Super User creates a folder, all Authors will see that folder.