Sign up for exclusive access
If you're as excited about Author Assist AI as we are, join the waitlist for exclusive access. Be the first to experience the benefits of the new functionality.
Where to find Author Assist AI
Content nodes contain Author Assist AI capabilities. If this feature is not yet available for your organization, it will be soon!
You'll find the feature here: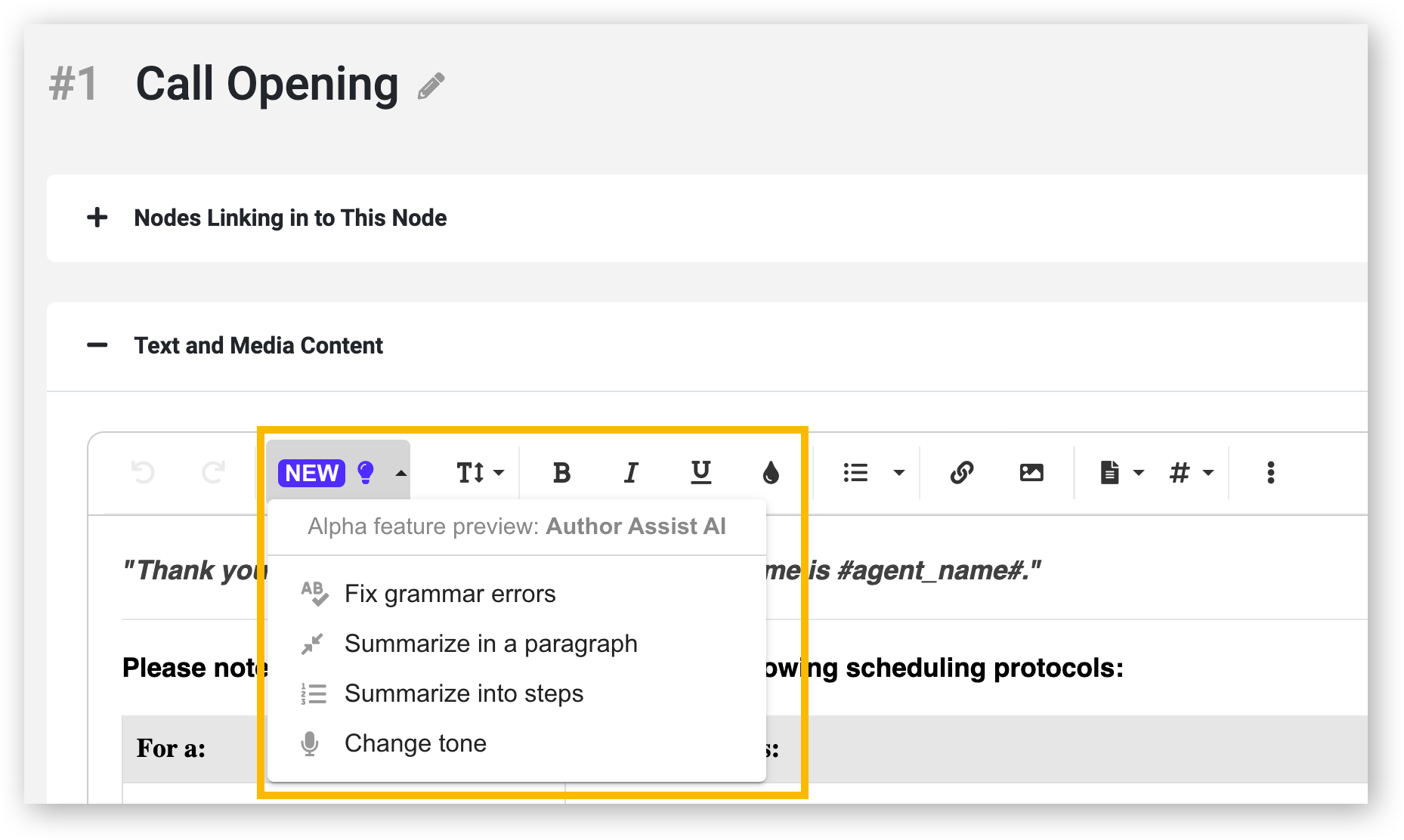 Author Assist AI Features
Fix grammar errors
Select this and Author Assist AI will fix grammatical and punctuation errors.
Summarize in a paragraph
Try this feature if you have a long passage of text, and want to summarize it in a shorter paragraph.
Summarize into steps
If you have text that contains a sequence of actions or steps in process, Author Assist AI will convert it into a numbered list, making it easier to scan
Change tone
Select this to change the tone of your text into different styles such as "Professional", "Straightforward", and "Friendly".
Limitations of Author Assist AI
All AI assistants have limitations as the technology is cutting-edge and continues to be developed.
Please be aware that the Author Assist AI features:
may output incorrect information.

may output harmful content when prompted.

may not know about recent events occurring in the last 6-12 months and may output inaccurate or outdated results.

may contain bias and output biased responses
Other things to know
Here are some things to keep in mind as you use Author Assist AI:
The maximum amount of text that Author Assist AI can work with varies, but generally, it's around 1,000 words. Text blocks larger than this can produce unexpected results. As a workaround, you can make smaller selections of text within a content node and apply Author Assist AI to that text one selection at a time.
Text inside of hashtags, like #variables# and ##taglist## will be ignored by Author Assist AI. However, these items may shift around when using summarization features.